Fudge - Chocolate Candies - Gift Boxes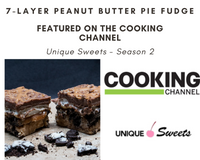 What Makes Our Fudge Unique...
We are best known for our gourmet layered fudges.  Our signature flavor is our 7-Layer Peanut Butter Pie fudge which is believed to be the only 7-Layered fudge in the world. 
Here at Z. Cioccolato, we still make our fudge in small batch pans just like you would at home.  The pans are what allow us to layer our fudge and create so many different flavors.  We make well over 100 flavors and are constantly coming up with new creations! 
Chocolate Making Classes - Virtual & In-Person
Our In-Person classes are back + we are still offering Virtual!  
Contact Chef Mike for more info on In-Person classes or Virtual classes: info@zcioccolato.com
How Virtual Works:   Chef Mike will mail each participant a box of supplies and ingredients and also include a Zoom link.  Chef Mike will walk you through the tempering process and have you make your own chocolate candies such as:  Pecan Turtles, Almond Bear Paws, Jumbo Peanut Butter Cups, and Dipped Strawberries.
More Info: Chocolate Classes
To schedule your own private Zoom class, contact Chef Mike at info@zcioccolato.com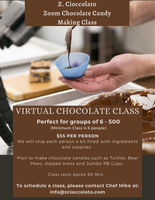 Visit Our Store in San Francisco
Open Daily from 11am - 8pm
474 Columbus Ave
San Francisco, CA 94133
(415) 395-9116
Contact Mike:  info@zcioccolato.com